Digital era is changing the rules of the game in retail
Romanian Retail Real Estate Forum, 4th edition
October 26, InterContinental Hotel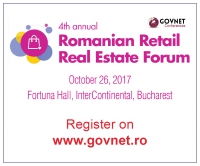 Bucharest, October 26, 2017 – Romanian Retail Real Estate Forum, the most important annual event dedicated to the local retail market, will debate, within the fourth edition, the challenges faced by the companies in this field in the digital era, as well as the solutions they can deploy to improve offline consumer experience.
We are witnessing a change in the paradigm in the development of the retail market: traditional shopping centers are starting to leave room for another type of concept that focuses on creating a community, a sense of belonging from the target audience.
The new projects aim to be in harmony with the reference area through a coherent urban development that meets as many consumer needs as possible. Thus, it will not take long for us to see integrated projects that include, under the same umbrella, homes, office buildings, shops, sport halls, restaurants. They will contribute to "airing" cities and limiting car traffic.
Organized by GOVNET Conferences, the event will bring together developers and shopping mall managers, real estate consultants, representatives of some of the most important retail chains in Romania, financial institutions, law firms - all relevant actors who need to work together creatively to make consumers spend more time offline, especially as online commerce is increasingly tearing consumers from traditional retail.
The topic of discussion of the first session of the Romanian Retail Real Estate Forum is "Where to invest resources in retail", with specific subjects on the agenda, such as the right mix in retail, consumer experience, the importance of optimizing energy consumption in retail developments, technologies to consider, the future of the retail from the perspective of entertainment.
The second session will deal with an increasingly pressing issue for the retail market - the challenges of traditional developments in the era of online shopping. Speakers will answer questions such as: "How can retailers and shopping center developers innovate in order to compete with the online market?", "How did social media transform our shopping experience in stores?", "What is the effect of online shopping on the number, size and location of stores that a retailer plans to open?", "How can retailers create a viable link between online and offline?".
The speakers of the Forum are: Ali Ergun Ergen, General Manager, TBE Solutions, Tudor Popp, Managing Director, REC Immpuls, Sorin Blaga, General Manager, Liebrecht and wooD Romania, Roxana Dudau, Associated Partner, Noerr, Frederic Lamy, CEO, Leroy Merlin, Andrei Pogonaru, CEO Veranda Mall, Ruxandra Stoian, Key Account manager, Philips Lighting, Bogdan Mugescu, Expansion Director, Fru Fru, Florin Popa, General Manager, Vitalis Consulting, Florinel Chis, Director, ARMO, Serban Radu, Co-Founder, Libraria Carturesti, Mircea Isvoranu, Fruits and Vegs Manager, Carrefour Romania.
The partners of the conference are: Casa de Traduceri, Kronospan, Noerr, Prakt Romania, REC Immpuls, Rofma, Ropeco, Philips, Schneider Electric.
For more details about the event, please access the link: http://govnet.ro/Retail-Real-Estate-Forum-2017
About GOVNET
GOVNET is an independent media channel that provides information focused on the economic and political reality and business climate in Romania, being also an event organizer through GOVNET Conferences. The GOVNET objective is to be a real source of specific information and analysis in the business area for those interested in investing in our country and also to promote partnerships through the most successful platform for information and networking directly within the high level events and business conferences.
For more information please contact us:
Adrian Ion
Publisher GOVNET
Tel: 0372900670
www.govnet.ro
Voteaza articolul:










| Aprecierea vizitatorilor:










Comunicatele de presa de la aceasta rubrica sunt oferite redactiei IMOPEDIA.ro spre publicare.
Daca doriti si Dvs sa publicati un comunicat de interes imobiliar, puteti contacta departamentul MEDIA:
contact: dep Media
tel fix: 021/318.25.45
e-mail:
media@imopedia.ro